We are back to in-person visits, accepting one masked adult to participate in your pet's visit.
We look forward to showing off our modern veterinary practice. While we haven't yet extended to giving full tours of our new hospital,  you can enjoy some pictures of our 'behind the scenes' facilities and know your pets are in excellent caring hands.
We are inviting one masked adult into their pet's visit so that you can discuss your pet's care in person. Please call or ring the door bell when you arrive.  Our friendly staff will greet you on the phone or at the door.
While some COVID restrictions have been lifted, we are requesting that all visitors to the hospital remain masked while indoors for the safety of our team.
 Our skilled Client Care Team members can schedule care visits with our doctors and answer many of your general questions.
For safety reasons during COVID, we will invite you to step into the lobby when handing off, or picking up your pet. If you need to wait for a moment, we have several seating areas just inside the door, comfortably socially distant.
Exuberant, shy and anxious pets do best by being able to wait in a quiet space. We will do our best to escort you and your pet to an exam room right away.  If your pet is anxious during visits, ask the doctor about options to reduce anxiety and make veterinary visits more comfortable for your pet.
We carry a variety of products and prescription foods in our retail area.
Our team is able to assist you with selecting the best products for your pet's skin & hair coat maintenance, ear care, joint health, dental and nutritional care. Feel free to ask a staff member for their guidance.
We have four exam rooms located off the lobby. We utilize cozy towels for our smaller patients, and folding exam tables which allow us to examine your pet where it is most comfortable (on the table or on the floor). Each room is stocked with educational materials.
Our new soft rubber flooring through out the hospital helps reduce noise and gives better traction for our dogs. It is also much more friendly on both people and pet joints!
We have created a cat-friendly environment in our practice. Our quiet cat-only exam room has special kitty treats and a soothing pheromone that helps your cat to feel more relaxed during their veterinary hospital visit.
We run a variety of laboratory tests in house and our local veterinary reference lab provides twice daily service for tests that are more complex. Results are usually back within a few days, sometimes in 24 hours.
We have a fully stocked veterinary pharmacy to meet the needs of our patients. When needed, we can refer you to a compounding pharmacist who can specially formulate medications for your cat or dog.
The treatment area is where most of our day procedures are performed (dental cleaning is shown). We have multiple treatment stations and cages to ensure clean and comfortable housing for your pet. Our trained staff members provide close supervision for patients requiring nursing care and those recovering from anesthetic procedures. Our goal is to treat your pet as if it was our own.
Surgeries are performed with modern anesthetic gases and other agents, using sterile technique and a heated table for patient comfort. We follow the best in veterinary protocols and the highest industry standards established by the American Animal Hospital Association.
All patients are monitored by a trained staff member and all anesthetic procedures including dentals are performed with electronic monitoring (e.g. ECG, SPO2, Blood Pressure) to ensure patient safety.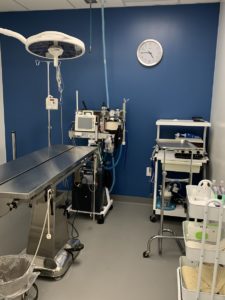 Our Radiology Room is modern with full digital capability to enable us to take onsite films when your pet's health requires.
We use radiographs to evaluate patients for routine screenings (PennHIP), and for heart disease, joint injuries, intestinal foreign bodies, arthritis as well as assessing sick patients with major organ changes.
A board certified radiologist is readily available to review all films as necessary. We can arrange for onsite ultrasound, or referrals for CT and MRI, when needed.
Staff Breakroom With a View
Our mezzanine allows us to provide a lunch and break area for our hard-working team. The second-story location provides a nice view outside of the adjacent Roosevelt Light Rail Station.
Our Team Enjoys a Donut Break Courtesy of a Caring Client